Foodini is a healthy, delicious liquid snack made 100% from plants. Ideal on the go.
With slight hunger and the urge for a snack often comes a moment of weakness, causing many people to reach for unhealthy treats. Foodini is a solution for those who want to take care of themselves and would prefer to enjoy a healthy snack without a guilty conscience instead of trying calorie-dense and unhealthy snacks. Foodini is a delicious liquid snack that is full of nutrients and comes in many flavours. Foodini is perfect between meals, on the go or on the way to work. Fans of plant-based products will not miss it, as Foodini attracts customers above all with the taste of real fruit and vegetables and contains no added fixatives or sweeteners. Foodini also comes in variants containing a variety of cereals, seeds and spices that add a surprisingly strong flavour. The variety of flavours and interesting mixes ensure that Foodini never gets boring!
Key advantages
Simple ingredients
We take pride in the ingredients of our products. Every Foodini snack contains only natural plant-based ingredients.
Proud to be HPP. Unpasteurised
During the production of Foodini, we use HPP (high pressure processing) technology, pascalisation, which is a modern method of food preservation using high pressure and low temperature. This technology, which replaces pasteurisation, ensures that natural ingredients retain their nutritional value and natural freshness for longer.
Handy packaging
Ideal for the road, the packaging does not obscure the appetising interior. In addition, the bottle comes from 100% recycled materials.
Taste experiences
The wide range of variants and fresh produce included in Foodini's liquid snack will allow you to enjoy the taste of fruit all year round.
Products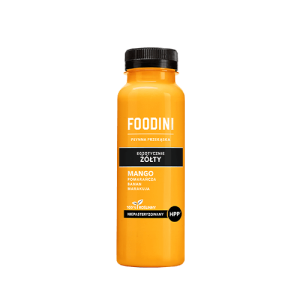 Foodini 250 ml
Exotically golden
Foodini 250 ml
Carefree red
Foodini 250 ml
Soothingly green
Foodini 250 ml
Sunny yellow
Foodini 250 ml
Paradise creamy
Foodini 250 ml
Tasty green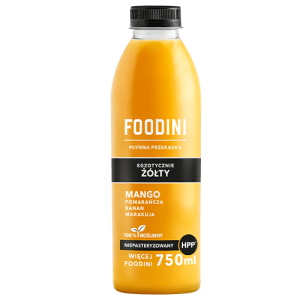 Foodini 750 ml
More about Foodini at zabka.pl/tylko-u-nas/foodini