Haps is a delicious little snack, nuts, dark chocolate – positive calories, in place of unhealthy sweet and salty snacks.
Poles like to snack. They like snacks and small treats between meals. The trouble is that most of these treats are full of chemicals and are bad for health. For those looking for a good substitute, we created Haps! The snacks come in handy packets and fit into even small pockets. With just one pack, it's the perfect portion for a small hunger or a break.
Key advantages
Snacks at any time
Haps are delicious snacks perfect for the sudden need to munch and nibble. On the road, on a stroll, at home, on your bike and scooter – Haps are the perfect solution!
So many varieties
Choose from dozens of different, sometimes unexpected flavour varieties. You can choose from mono nuts, fruit mixes, sweet and salty nut and fruit mixes, as well as popcorn in unusual flavours.
Simple ingredients
Haps products do not contain any palm oil, artificial flavours or colours. It's a pleasure to munch!
Handy packaging
Portions that are perfect for quick munch and easy open (laser scoring) packs made for you to enjoy a convenient Haps crunch in any situation.
Products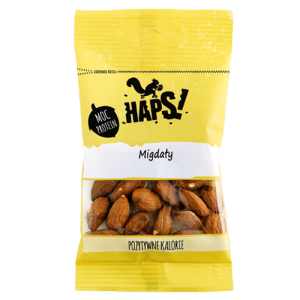 Peanuts MONO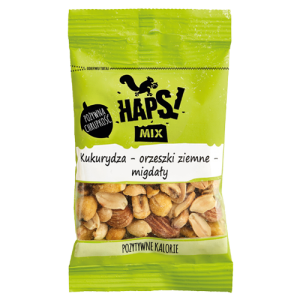 MIX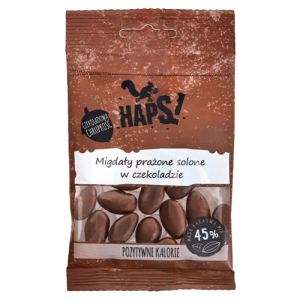 Chocolate snacks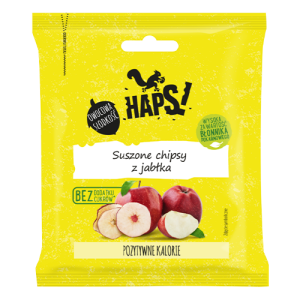 Fruit and vegetable chips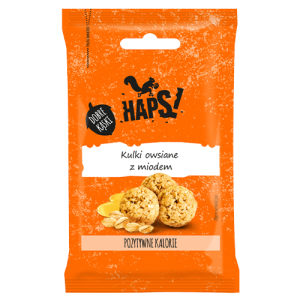 Cereal and peanut snacks
More about HAPS at https://www.zabka.pl/tylko-u-nas/haps