Nano is a technological transformation of the retail world – changing all traditional stores, regardless of brand or category, into their best version, that of tailored, autonomous modern-convenience locations.
Nano is a brand of unmanned retail solutions. It is a technology that turns stores into autonomous units open 24/7, where customers can do quick shopping without registers or cash. Once enrolled, all customers have to do is walk in, take the desired product and leave, and payment will be made automatically. Nano technology can be implemented in traditional locations (city centres, train amd stations, etc.) and in a store-in-store model. Such a flexible model allows the product range to be tailored to the location and the customers.
The advanced Nano technology was first implemented as part of the Żabka Nano format (previously Żappka Store). Shopping has not only become simpler and faster, but also more accessible to the customer, thanks to the possibility of implementing Nano in non-standard locations (such as offices and hospitals).
Key advantages
Availability
Nano is open 24/7: anytime, anywhere, right away.
Speed
The purchasing process at Nano can take less than a single minute.
Customisation
Extremely flexible format allowing the product range to be adapted to the location and type of customer.
Innovation
Technological transformation that enables automation of the convenience world.
Brand in numbers
24/7
24/7 Format available
to the customer seven days a week
around the clock
1 min
shopping in Nano
is literally an instant
0
in Nano format
there is no register
More than
40
cameras, using AI,
recognise which products
are selected
No. 1
largest chain
of autonomous stores
in Europe
More than
700 SKUs
diverse offer personalised
to the type of location
Nano Format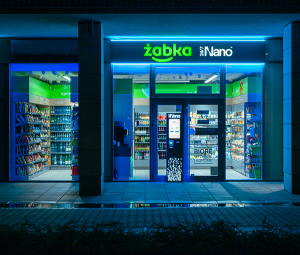 Żabka Nano
BRICK-AND-MORTAR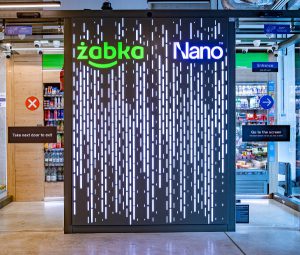 Żabka Nano
STORE-IN-STORE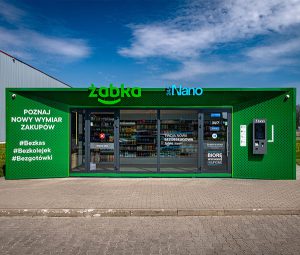 Żabka Nano
Container
More about Żabka Nano at nano.zabka.pl