Crystal clear mineral water packaged in 100% rPET recycled bottles.
Is it possible to drink bottled water and not harm the environment in the process? Well, yes! OD NOWA has been created out of concern for the environment – water sourced from the over 150-year-old "Anna" spring in Muszyna and packaged in environmentally neutral bottles.
Key advantages
Polish springs
The crystal clear OD NOWA mineral water is drawn from the over 150-year-old "Anna" spring in Muszyna. This place is the "pearl of Polish spas", established in Żegiestów-Zdrój in the 19th century. The region's picturesque landscape and fascinating history complement the naturally delicious taste of OD NOWA water.
Just right for you
OD NOWA mineral water is available in two options: lightly carbonated and still.
Always handy
Heading to work? Planning a longer trip? Thanks to its handy bottle, OD NOWA water is perfect for any trip, big or small.
Focus on the environment
Quench your thirst and maintain a neutral carbon footprint. OD NOWA water bottles and labels have been manufactured from 100% recycled rPET.
Products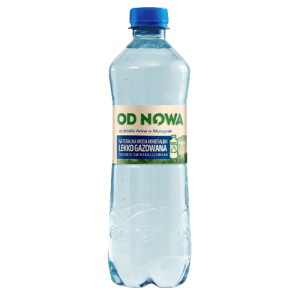 OD NOWA
LIGHTLY CARBONATED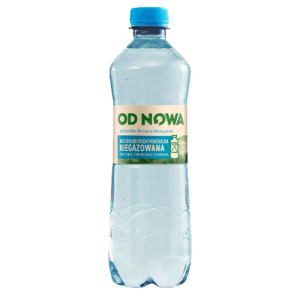 OD NOWA
STILL
More about OD NOWA at zabka.pl/tylko-u-nas/od-nowa