Tomcio Paluch is a second breakfast on the go, a sandwich expert, always nutritious and filling breads, convenient package.
Bread is one of the staple items in Poles' diets. Well-designed sandwiches with many ingredients are often a meal that we do not have time to prepare before work or school. And, not all the necessary ingredients are always in the fridge. , not all the necessary ingredients are always in the fridge. Tomcio Paluch is the solution! The wide range of sandwiches will satisfy everyone's hunger. Tomcio Paluch is based on freshly made bread, which retains its flavour throughout the day, irrespective of the type of bread chosen. Baguettes, bagels, Kaiser rolls and triangular slices, stuffed to the brim with ingredients from tried-and-tested suppliers, will be on the table of meat lovers and vegetarians alike.
Key advantages
Good bread is fundamental
The basis of our snacks is freshly baked bread. Among them you will find light light breads, those made of wholemeal flour, variants with grains and protein bread. Choose from baguettes, bagels, Kaiser rolls and bread triangles.
Filled with fresh ingredients. Generously sized!
Every Tomcio Paluch sandwich is made with carefully selected fresh ingredients: selected and sourced from trusted suppliers. They will satisfy your taste buds and keep you full!
Something for everyone
Tomcio Paluch entices you with a selection of products both with meat and vegetarian, mild or spicy, classics or unconventional compositions.
Airtight packaging
The sandwiches stay fresh thanks to the tightly sealed packaging, which also ensures that their taste remains undisturbed. They make it convenient to eat a sandwich on the go or take it with you for a second breakfast.
Product categories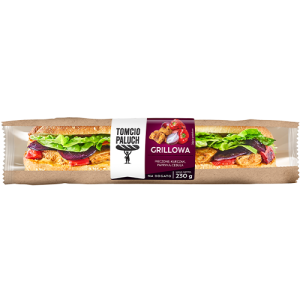 Baguettes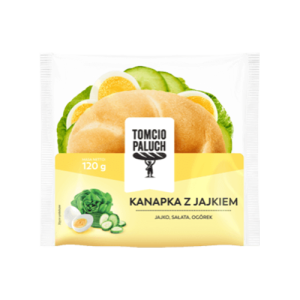 Sandwiches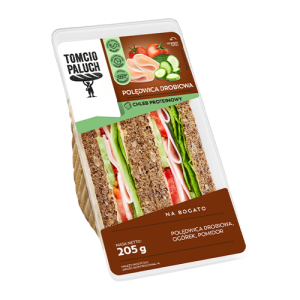 Triangles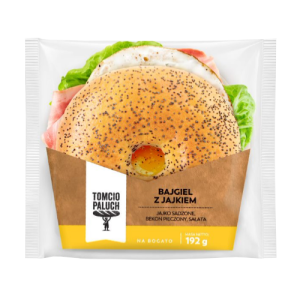 Bagels
More about Tomcio Paluch at zabka.pl/tylko-u-nas/tomcio-paluch