Żabka stores
The mission of Żabka Group is to make people's lives easier. That is why Żabka stores are comfortable, modern outlets located in convenient locations, almost all open from 6 am to 11 pm. Żabka stores are found not only in large city centers and business districts, but also in local neighborhoods. We are opening new stores and reaching places to address key costumer needs at different occasiones – including public transport and metro stations, private dormitories and seaside promenades.
The stores are run on a franchise basis. Żabka Polska gives eligible the opportunity to open their own stores as franchisees and provides comprehensive support in running the business. Customers are offered an innovative assortment that responds to impulse shopping missions as well as a range of services supporting a balanced lifestyle. Żabka is no longer just a store, but also an ATM, a café, a small restaurant or a post office. It is a mini service-and-retail center where customers can not only do fast and safe shopping close to home or work, but also enjoy a good cup of coffee from an espresso machine or pick up a parcel.
Żabka Polska's head office is located in the center of Poznań, where the company originated. It was here that the first Żabka stores were opened over 20 years ago.
"Żabka continuously aims to close the gap between the company and our customers and to develop local entrepreneurship. We keep on supporting our franchisees by means of multiple tools, which make running a business even easier"
– Adam Manikowski, Managing Director, Żabka Polska.
---
Always nearby
Żabka Group is co-created by Żabka Polska, which is the owner of the largest chain of modern convenience stores in Poland. There are more than 10,000 stores operated by more than 8,600 franchisees under the Żabka brand. To be closer to our customers, we are constantly expanding to new locations and developing the store format to match new types of locations and ambitious expansion goals. We use artificial intelligence and advanced analytics to evaluate new store locations.
Neighbourhood stores
Traffic stores
Seasonal stores
Stores in office buildings
Stores in shopping centres
Stores at transit points
Mobile stores
Autonomous stores
Vending machines
Petrol Station Stores
Motorway services
area stores
Commercial stands
in shopping malls
Advertising campaign "Free up free time"
Żabka's mission, making lives easier, has always guided all our actions. However, until 2022, we did not communicate it openly, focusing on our competitive advantages as a corner store. In October 2022, we decided to declare clearly and openly to our customers: Żabka makes your life easier and, in doing so, helps you free up your time.
Żabka does not just promise to free up your time. Each campaign ad shows exactly how it does this – the role of products and services in freeing up time by making various aspects of everyday life easier ("Do what you like and we'll help you with what you need").
On social media, websites and the Żappka app, we tailored the communication to a younger customer, allowing ourselves a bolder interpretation of both the image spot and the product campaign: "Don't worry yourself, don't think about everyday challenges, don't burden yourself with them, because #mashtowżabce (#youhaveitatżabka)". Each online ad continued and interpreted the story told in the TV spots.
It is not just Żabka that gives customers the freedom to enjoy life to the fullest with the convenience and immediate availability of tailored products and convenient services. The other "Żabka" brands also free up time by making everyday life easier. This is why the "Żabka Nano" and "Żabka Jush" ads also feature themes that coincide with the brand's core positioning.
The new campaign allows customers to see Żabka from a different perspective, to see the benefits they have been receiving, but which they have not been aware of so far: Żabka helps you do everyday things, it helps free up your time. The campaign is another important step in building our brand based on our most important advantage.
Modern logistics infrastructure
Żabka's logistics network includes 8 logistics centers from which goods are distributed to stores throughout Poland, and 19 transshipment terminals. Żabka also cooperates with a network of carriers delivering more than 2 million orders a year to over 9500 stores. More than 80% of Żabka stores are logistically serviced every other day.
In its 25th anniversary year, the company has opened one of the most modern logistics centers in Europe. The Automated Logistics Center was officially opened in Radzymin near Warsaw. It is the largest, most technologically advanced facility in Żabka Group's logistics infrastructure. The center has been equipped with, among other things, an automated High-Bay warehouse and an automated internal transport system, speeding up logistics services for stores. The BTS (build to suit) facility was prepared to meet the individual needs of Żabka. In addition, the center was designed to be energy efficient.
In its area, already at the construction stage, thought was given to preserving biodiversity by making plantings in accordance with BREEAM requirements (trees, shrubs, flower meadow, etc.). Photovoltaic panels have been installed on the building's roof, for obtaining green energy, and a special anti-smog pavement has been applied to the parking lot for cars.
The Żabka Group is consistently implementing its plan to decarbonize its fleet of both vans and cars. The fleet has been supplemented with 500 Toyota Yaris Cross hybrid cars for field agents and electric Volkswagen Transporter ABTs – the first electric service vans in Europe. This is another measure to protect the environment and reduce the carbon footprint in cities and regions particularly vulnerable to air pollution. We have also invested in our own charging stations for electric cars at our logistics centers in Nadarzyn and Plewiska, as well as at our headquarters in Poznań. Transportation planning also has an impact on reducing the intensity of emissions. This is made possible by our TMS – Transport Management System, which contributes to reducing the number of kilometers driven and increasing the filling of trailers. The TMS covers all stages of goods distribution up to delivery to a specific facility. The system not only allows all elements of the supply chain to communicate with each other, but also handles returns.
19
cross-docking facilities
Approximately
86 NPS
Franchise NPS on Logistics*
*based on internal survey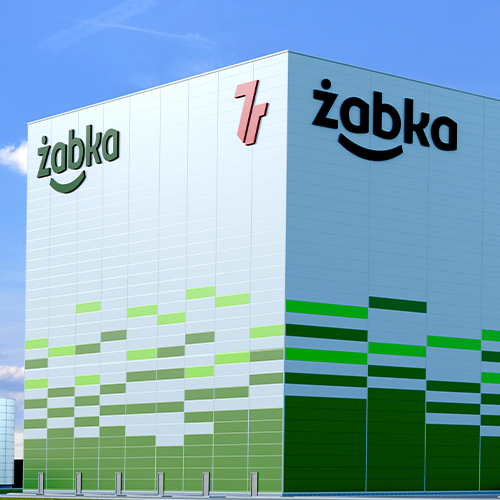 Cutting-edge automated warehouse
in Radzymin near Warsaw
under construction
---
Format development in the spirit of modern convenience
We effectively respond to customers' expectations through tailored, innovative product offerings and attractive promotions.
We create and market own brand products, including ready meals, warm snacks, sandwiches, healthy snacks and beverages.
We use modern communication channels with customers.
We implement new, convenient services.
Quick meal solutions
ATM services
Lottery services
Quick meal solutions
ATM services
Lottery services
Medical services
Parcel and Postal services
GSM starters & top-ups
Medical services
Parcel and Postal services
GSM starters & top-ups
Bill payments
Click & collect
Paysafe card
Bill payments
Click & collect
Paysafe card
Various payment options
Gift, game cards
Citycards top-ups
Various payment options
Gift, game cards
Citycards top-ups
Franchisee-centricity
Franchisees play a key role in our business model and we strive to meet their needs to the best of our ability. We continuously improve the quality of our franchise model, provide training to franchisees and support them in their daily tasks.
We support the development of our franchisees by automating store management and further developing mobile solutions to facilitate management, as well as by segmenting the assortment of stores, tailoring the offer to the location and developing the modern convenience format.
We maintain an ongoing dialogue with franchisees and consult them through the Franchisee Council, which consists of 14 freely elected franchisee representatives. The Council is a consultative and advisory body to the management board of Żabka Polska, which is one of the two main business units within the Group.
---